Pieter Molendijk behoort ook tot één van de inwoners van Rijsoord, die model zijn geweest voor de buitenlandse kunstschilders.
Waarschijnlijk is Pieter Molendijk geboren op 5 januari 1833 in Hendrik-Ido-Ambacht.
Pieter trouwt eerst met Grietje Rijsdijk. Zij is geboren in Ridderkerk op 12 januari 1833 en overlijdt op 8 mei 1883.
Ze krijgen zeven kinderen: Gerrit (1861-1934), Jan (1862), Lena (1865-1866), Lena Francina (1866), Elizabeth (1868-1868) en Janna Molendijk (1871-1871).
Pieter Molendijk hertrouwt met Grietje Bos (1831-1898).
In 1901 vertrekt Pieter Molendijk naar Rotterdam. Daar overlijdt hij op 26 januari 1906.

Pieter Molendijk is geschilderd door Wilhelmina D. Hawley als pijprokende man.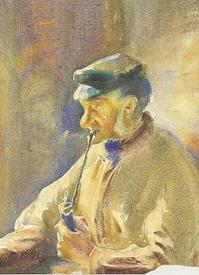 Pieter Molendijk (door Wilhelmina D. Hawley)
Voor Willbur A. Reaser was Pieter Molendijk een favoriete model.
In mei 1899 heeft Willbur een expositie in de Garrison Art Gallery in Fort Dodge, Iowa. Op die tentoonstelling hangen twee werken waarvoor Pieter Molendijk model heeft gestaat, namelijk: 'Old Man Whittling' en 'Old Man and Sleeping Child'.
Dit laatst genoemde schilderij heeft lang op de ezel van Reaser gestaan, wel drie jaar lang. Eerst was het een vierkant schilderij met een schuur op de achtergrond, dat hij uiteindelijk heeft veranderd in een ovaal schilderij met een groen landschap met een rij bomen aan de horizon.
'Old Man and Sleeping Child' was al eerder te zien in o.a. de Lotus Club in New York (december 1897) en in de Pennsylvania Academy of the Fine Arts in Philadelphia (januari-februari 1898).
Tegelijkertijd met de tentoonstelling in Fort Dodge houdt Willbur een serie lezingen. In één van die lezingen vertelt hij uitgebreid over zijn ervaringen in het Nederlandse dorp Rijsoord.
Na Fort Dodge gaat Reaser naar Des Moines, Iowa. Ook daar houdt hij een dezelfde serie lezingen.
Hij vertelt over zijn model: "
His favorite old Dutchman, "Den Heer Pieter Molendijk," is the model of his picture, "Old Man and Sleeping Child," which his artist friends call his Madonna
".
1
Het schilderij van Pieter Molendijk wordt daarna nog getoond in o.a. de Carnegie gallery in Pitssburg, in Anderson's in Chicago (februari 1899) en in de Macbeth's gallery in New York (mei 1899).
In 1901 worden in de Des Moines Womans' Club (Des Moines, Iowa) schilderijen van Willbur A. Reaser getoond. Onder de schilderijen bevindt zich ook weer het schilderij "Old Man and Sleeping Child". Het schilderij wordt ditmaal gekocht door Des Moines Womans'Club.
"
It is a large oval, showing an old man, an old Dutchman, quietly holding in his protecting arms a sleeping child. In the background is seen a bit of Holland, a flat plain of green some small trees dotting the horizon, and a warm evening sky. Interest in the picture of course centers in the old man's face, marvelously gentle, tender and patient, out of which has gone all the strife and struggle of life, leaving only its sweetness and content. It is the Madonna idea in a new form, and Mr. Reaser's friends refer to the picture as the "Man Madonna"
.
2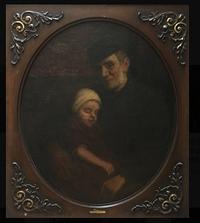 Old Man And Sleeping Child (Hoyt Sherman Place Art Galleries)
De Des Moines Womans' Club bouwt in 1907 de Hoyt Sherman Place Art Galleries. Het schilderij 'Old Man and Sleeping Child' behoort nog steeds tot de collectie van de Hoyt Sherman Place.
3
"There would be great excitement in Rijsoord tonight", said Mr. Reaser, "if they knew that old Piete's picture was to find a resting place in a public collection"
.
2
Noten.
1. The Des Moines Register (Des Moines, Iowa) 17 oktober 1899.
2. Evening Messenger (Fort Dodge) 9 maart 1901.
3. http://hoytsherman.org.
Naschrift.
Deze miniatuur van Mabel R. Welch getiteld "Old Pete" zal ook Pieter Molendijk voorstellen:
"
Then there are "An old Dutch Woman" in big white cap, seated on a bench, with her hands in a dish on her lap, shown by Miss Lucy May Stanton; " The olden Style" of bonnet (1820) by Miss Daggett, and "Old Pete", who, heaven knows, looks Dutch enough, in his brown cap and visor [=vizier], with his muttonchop white whiskers [=bakkebaarden] and long clay pipe, the sending of Miss Mabel R. Welch ...
" (bron: New York Times 18 april 1907)